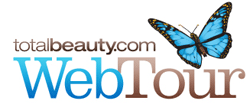 The stars came out for the CoverGirl/MTV Movie Awards event at Byron & Tracey Salon, Beauty Junkies Unite was there!

It's 3 Custom Color Specialist Week on The Informed Makeup Maven who writes, interviews and reviews 3CCS. Don't forget to enter IMM's MAC Pack and Diorshow
giveaways, and follow IMM on Twitter.
eye4style has the scoop on Sienna Miller's totally gorgeous MTV Movie Awards hair! Get the how-to here.


A Beautified Life reviews http://abeautifiedlife.blogspot.com/2009/06/summer-shimmer.html target="_blank"> Summer Shimmer makeup that helps withstand the summer heat!
My Makeup Blog
did a prom makeover for one reader!